LEVEL 2 GYM INSTRUCTOR
Leading to Active IQ Level 2 Certificate in Gym Instructing, this qualification is nationally accredited. It will equip you with the skills and knowledge required to work with gym members. No prior qualifications are necessary, making this the perfect starting point for a career in fitness.
Course Description
---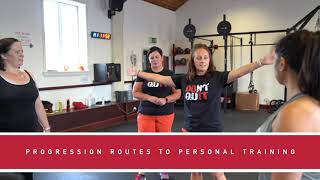 Leading to Active IQ Level 2 Certificate in Gym Instructing. Our Level 2 Gym Instructor courses is where your amazing new fitness career begins. This qualification is nationally accredited. It will equip you with the skills and knowledge required to help gym members achieve their fitness goals. Best of all, you don't need any prior qualifications. This means it's perfect for anyone who is just starting out or looking to turn a passion for fitness into a new career path, whether that be in the gym or fitness studio this is the starting point.
Our fitness instructor courses prepare you for working on the gym floor. You will learn how to plan safe and effective gym-based exercise sessions. You will cover everything from warm-ups, mobilisation techniques, the use of a range of cardiovascular and resistance machines. In addition, the course covers free weights and body weight exercises. You will also cover aspects of health and safety and customer care so you'll be ready to become an immediate asset to any employer.
Fitness Instructors are the public face of the gym environment, supporting members during their visit in a whole host of ways. So not only will you get the theoretical knowledge but you will also have first-hand work experience working with real clients in our fitness studio. This is the foundation for any qualification you wish to progress onto in the fitness industry. This is where it all starts! Prices from £450.00 Various payment options available Contact one of our advisors for the next available course date.
---
Course Structure
---
What does the Gym Instructor course cover?
Our Gym instructor course gives beginners the skills and knowledge needed to provide effective fitness training. Your tutor will help you plan and deliver your own gym sessions, using up-to-date methods of programming and instructing skills.
The nature of this course is that participants will acquire an in-depth knowledge of health and fitness. This will include first-hand experience of using gym equipment, as well as:
How to warm up / cool down
Anatomy and physiology
Free weights and functional exercising techniques
Cardiovascular conditioning
Resistance machine exercise techniques
Body weight training
Flexibility training
Principles of exercise programme design
Communication and teaching skills
Screening and risk factor identification
Promoting physical activity for a healthier lifestyle
Planning for special populations
Customer care – the do's and don'ts
Health and safety in the workplace
Using this qualification, participants will begin an exciting career in the gym sector. On completion of the course you will be advised on the natural progression route this could be the; Circuit Training Qualification, Kettlebell Instructor course, Level 3 Personal Trainer course, Level 3 Exercise Referral course and many others.
---
What Course Materials Will I Receive?
---
We provide access to an e-learning guide. This guides you, section by section, through your course. All the facts and information you need are clearly presented to make learning as easy and enjoyable as possible. There's even a quiz at the end of each section to test yourself. An option to purchase a hard copy of the manual is also available.
---
How Is the Level 2 Gym Instructor Course Delivered?
---
Once you have booked your course a support tutor will call you to welcome you to EveryBody Fit and answer any initial questions that you may have. The course is delivered via online learning and face to face at our Preston Site. This is a working gym/studio. For the face to face delivery you will be taught over the 5 days in both the classroom and in the gym. You will work with other learners on the course as well as gaining practical experience with members of the gym. You will study from home using our online platform. You will receive tutor guidance and support calls prior to attending 2 face to face delivery weekends. The final weekend will include your summative assessment day with your client.
The courses are led by highly experienced and qualified tutors. Their job is to successfully support and guide you through the qualification.
---
How Will I Be Assessed?
---
Gym Instructor Courses are assessed in three different stages:
1. 1 x multiple-choice theory examination.
2. Completion of worksheets & assignments in your learning portfolio.
3. Practical assessment: x2 modular summative assesments and x1 summative assessment with your client.
---
---
One off single payment (credit/debit card accepted 2.5% fee applicable)
We also offer affordable payment plans to help spread the cost.
Simply fill in our online form by clicking the button below or call us on 01772 379125.
Regardless of your current financial situation, we can find a solution for you.
"I have always had an interest in fitness. I started this course for the simple reason that I wanted to perform better and understand more about my own training. Having completed this course I now know that I want to be able to help others achieve their fitness goals. It really inspired me and created a drive within me to turn this interest into a career."
If you require any additional information about our courses, CPD or our gym just get in touch