LEVEL 2 KETTLEBELL TRAINING
Leading to Active IQ Level 2 Award in Instructing Kettlebells. Kettlebells are a great functional piece of kit. They are used more and more in group sessions and one to one training. This qualification gives you the knowledge and confidence to integrate kettlebells into your programming.
Course Description
---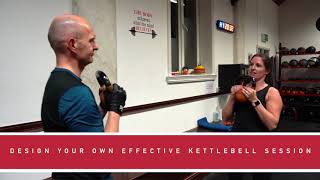 A typical kettlebell session offers a unique combination of cardiovascular, muscular resistance and flexibility training. As a result, kettlebell workouts have proven to be one of the most popular additions to a workout. Our Kettlebell Instructor Course cover a range of classic exercises and grip techniques. You will learn how to build moves into programmes to deliver circuit style training sessions incorporating kettlebell techniques or how to simply work one to one with your client.
Course Cost = £130 (one day course)
Contact one of our advisors for the next available course date.
---
Course Structure
---
You will start by learning the main moves involved in kettlebell exercises before covering an extensive range of exercises. In addition, our kettlebell workshops cover sport specific exercises and teach you how to incorporate techniques into a training programme. As a result you will be able to incorporate your new skills into a studio session
The moves involved in kettlebell exercises
An extensive range of kettlebell exercises for all clients
Sport specific exercises
How to incorporate techniques into a training programme
How these skills can be incorporated into a studio session
There are a variety of skills that go into delivering great kettlebell training sessions. Firstly, grip techniques – the cornerstone of kettlebell instruction. Mastering the different grips will ensure a solid foundation. Next, the actual kettlebell movements themselves. From swings, rows and presses to clean and jerk, you will learn how to incorporate these techniques into a fun workout plan for clients.
---
How Will I Be Assessed?
---
There are 4 parts to the assessment.
• Planning worksheet
• Session plans
• Formative observed session
• Self-evaluation On completion of the course you will receive the Active IQ Award in Instructing Kettlebells.
Pre requisites for this course are a level 2 certificate in Fitness Instructing.
---
---
One off single payment of £130 (credit/debit card accepted 2.5% fee applicable)
"Oh my word...I loved this course. I have used Kettlebells in the past but never like this. The tutors explained how to perform each move brilliantly. They broke down the technique to ensure that each and every one of us performed it correctly and understood how to teach it correctly. I feel so confident in using this piece of kit that I now can't wait to bring in to my sessions."
If you require any additional information about our courses, CPD or our gym just get in touch