LEVEL 3 PERSONAL TRAINER COURSES
Leading to Active IQ Level 3 Diploma in Personal Training. Our Level 3 Personal Trainer Courses are perfect for those who already possess their Level 2 Gym Instructor qualification. They cover advanced training techniques such as lifting form, CV training methods, anatomy and physiology, client assessment and programming, business planning and much more. If you don't have a level 2 qualification contact us about our combined level 3 Gym Instructor & Personal Trainer Diploma
Course Benefits
---
EveryBody Fit is based in Preston, and you will find our head office here.
Customised training centre with bespoke cardio and functional space
Wide range of excellent functional apparatus
Learn with absolute confidence in a controlled, isolated and supportive environment.
Bespoke classroom facilities onsite
Work experience throughout the duration of your course with real clients in our studio.
On completion of the course you will continue to get support and guidance through our bespoke mentorship programme.
Situated 5 minutes from motorway links and 10 minutes from Preston bus or train station.
You won't just qualify as a PT you will become one.
Blended or full time? We offer both options and include face to face learning. As a result, you can choose what's right for you.
Learners must hold a suitable level 2 qualification in Fitness Instructing or Gym Instructing. The course requires physical exertion and individual participation is essential, therefore a degree of physical fitness is necessary.
---
Course Structure
---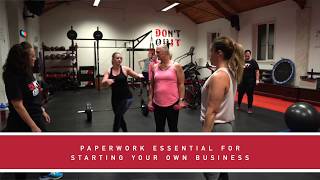 Leading to Active IQ Level 3 Diploma in Personal Training. If you're in a hurry to get qualified, the fast track Level 3 Personal Trainer courses run from Monday to Friday and are run from EveryBody Fit's very own private training centre. Here you can learn from a range of gym based practical sessions and classroom led theory lessons quickly and efficiently. Only the highest calibre of tutors teach on our courses, who have extensive experience of helping people just like you to achieve their Level 3 Personal Trainer qualification. You also have the option to study via our blended learning option. This will entail studying from home in your own time. You will follow the e-learning work set and will receive tutor support and guidance prior to attending face to face delivery days. These days will consist of recep and revision sessions, multiple choice exams, delivery and assesment of the practical element of the course. A Level 3 Personal Trainer qualification enables you to work independently with clients as a personal trainer, enhancing your employability prospects, increasing salary potential, and leading into Level 3 Exercise Referral and further to a specialist Level 4 Qualification. EveryBody Fit's Level 3 Personal Training Course will help you qualify to become a dedicated and successful personal trainer in 4 weeks (full time study). If you have a passion for fitness, good communication, hard work and helping others, this multi-dimensional course is exactly what you're looking for. For the blended learning option you will complete the e-learning through home study and support calls followed by 6 face to face days split over 2 weekends (Fri, Sat, Sun). Prices from £1200.00
Various payment options available Contact one of our advisors for the next available course date.
---
What you will learn
---
EveryBody Fit's Level 3 Personal Training course is tailored carefully to provide you with the specialist training you'll need to become a top-tier personal trainer. Here's an idea of the type of content you'll be covering:
Further knowledge of anatomy and physiology applicable to personal training.
Lifestyle, nutrition and medical factors that affect wellbeing.
Effective communication skills for client consultations to encourage healthy lifestyle behaviours and strategies for change.
Skills to plan and conduct physical activity sessions with different types of clients in a variety of environments with a range of resources.
Legal and professional requirements for personal training.
How to set up and manage a personal training business on a self-employed basis if they wish to.
How to manage, evaluate and improve own performance.
Business skill required as a Personal Trainer
You will receive maximum support and assistance from our experienced and friendly personal tutors to ensure your assessments are stress-free, give you the best chance of passing the first time, and are ultimately a great success.
---
Careers Support and Progression Routes
---
We're proud of our students and what they can achieve, that's why we provide all graduates from EveryBody Fit with an extensive, ongoing career support and mentorship package.
Expand your knowledge through further qualifications, supercharging your career and earning potential. Diversify your range of clients and explore new fitness niches with a CPD qualification or continue onto Level 3 Exercise Referral leading to Level 4 Exercise Specialist.
---
How Will I Be Assessed?
---
Learners must complete the six mandatory units and are assessed as follows:
Worksheets and assignments in your portfolio.

x2 Multiple Choice Examination.

x1 Case Study.

x3 Practical assesments; x2 modular summative assessments and x1 summative assesment with a client.
---
---
One off single payment (credit/debit card accepted 2.5% fee applicable)
We also offer affordable payment plans to help spread the cost.
Simply fill in our online form by clicking the button below or call us on 01772 379125.
Regardless of your current financial situation, we can find a solution for you.
"What I loved about this course.... the small group of learners meant that we all got the attention and help that we needed; the patience of the tutors and their ability to break things down so that we fully understood what we where learning, the fact that we could apply the learning to real clients who we worked with during the course. I can not wait to continue my learning journey with EveryBody Fit, thank you guys."
If you require any additional information about our courses, CPD or our gym just get in touch